Fortifying your family's finances starts with a personal education on managing your money. The best way to gain knowledge is through the traditional tried and proven method – read a book! Here is a list of books for different stages of your life as well as for your different financial goals. Whether it is to retire early or build wealth for the long term, here are your top personal finance books for 2020.
'I Will Teach You To Be Rich' by Ramit Sethi
Ramit Sethi provides you with a detailed six-week outline of a plan for living a 'rich life' but one that you define. His book walks you through maximising your credit card rewards, how to open a high-yield savings account to earn interest and autmoate accounts to passively save on a monthly basis. You will be reaping returns from this easy-to-digest and highly actionable book quickly.
'The Intelligent Investor: The Definitive Book on Value Investing' by Benjamin Graham
Originally published in 1949, the book may seem too outdated to be relevant in today's economy. This revised edition, however, includes commentary from prominent investors of today including Warren Buffet. It is true to textbook form which explains why you should prioritise minimising losses over maximising profits. Learn from long-term investors and day traders whom emphasise the importance of discipline, making and sticking to a plan.
'Rich Dad Poor Dad' by Robert T. Kiyosaki
Kiyosaki argues that riches are a result of making smart decisions, not just a high-flying corporate job. This book was written especially for parents to help you understand money and pass on that valuable knowledge to your kids. Kids that are not taught personal finance in school, are ever more reliant on their parents to guide them on making smart financial decisions.
'Hustle Harder, Hustle Smarter' by Curtis '50 Cent' Jackson
Much more than a platinum-selling rapper, 50Cent is also one fo the highest-paid executives in the media industry and can teach you a thing or two about making money. The book is an autobiography stacked with self-help lessons and financial advice he sought himself. Learn from the risks he took that laid the groundwork for his extravagent success.
'Outliers: The Story of Success' by Malcom Gladwell
What makes successful people stand out from the crowd? What makes them an outlier? Learn from the secrets of the most successful people in the world as Gladwell reveals how these people became the best at what they did and how they built some of the most successful companies the world. Use these tools to build and manage a solid set of financial skills.
'The 10x Rule: The Only Difference Between Success and Failure' by Grant Cardone
This book debunks the myth of time management and and reveals how some fail and others succeed. Cardone takes you to the 'next' level using the 10x rule. Although book is tailored for management and leadership positions, there are good tips that you can apply to your personal finances. Learn from the mistakes people make when managing money and the recuperative steps you can take to crush those goals.
'The 4-Hour Workweek: Escape 9-5, Live Anywhere, and Join the New Rich' by Timothy Ferriss

Managing your finances has in actual fact, less to do with money as it does with organization. Tim Ferriss teaches you time management resources to be smarter about earning. He renounces the idea that you have to be born into wealth to achieve it. Read case studies of real-life examples who reduced their workload, freed up time and hacked their successes.
'The Total Money Makeover' by Dave Ramsey
Dave Ramsey's coveted book is one of the best-selling finance books on the market. It schools you on seven steps toward achieving financial independence: how to save $1000 or an emergency, implementing the debt snowball method and building at least 3-6 months of savings. Read more on its sections on retirement savings and investing to pay off your mortgage.
'The Millionaire Next Door' by Thomas Stanley and William Danko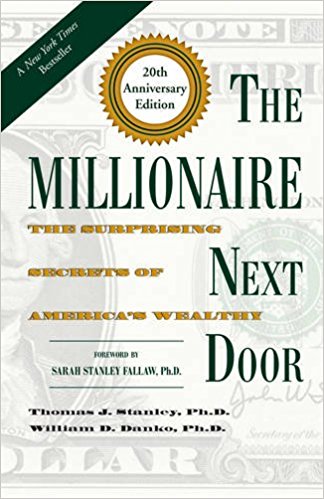 Stanley and Danko do a deep-dive comparison of the behaviours of Under Accumulators of Wealth (UAW) and Prodigious Accumulators of Wealth (PAW). The book showcases the disciplined work ethics of millionaires who lead simple lives and invest their money into appreciable assets; they are not necessarily throwing money on designer clothing and luxury goods.
'The 7 Habits of Highly Effective People' by Stephen R. Covey
Covey's self-help book has been around for over 30 years. It has been awarded the title of 'one of the most influential business books of the 20th century'. This may not be a finance-specific didactic book, there are plenty of transferrable lessons about money.